The company's history

strong
durable
reliable
We are a tool company operating in the industry since 1991. Our catalog is a wide range of power tools, rechargeable devices, power tool accessories, garden tools, welding equipment garden equipment, welding equipment, hand tools, health and safety articles
We sell our products in Poland and 14 European countries. Continuously for several decades, we take care of the high quality of the offered products and services and the needs of customers are our priority. Slogan "Strong Durable Reliable" invariably characterizes the Dedra brand.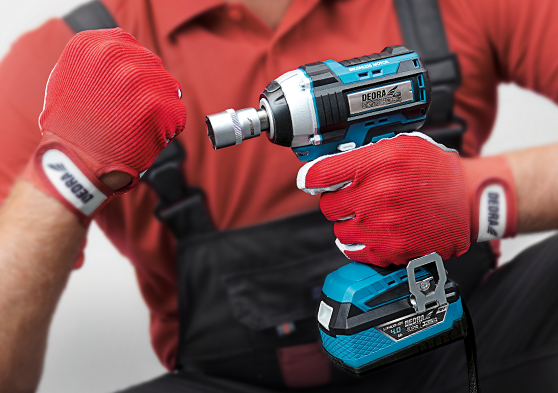 The year 1991 is the beginning of our business. The first group of goods, with which we started sales were tools and power tools for glaziers, and a little later tools for processing flat glass. We systematically expanded our assortment by adding electric cutters for tiling and power tools for drilling in hard materials.
The first models of cutters that appeared in our offer were. DED7701 and DED7702.
The 1990s also saw rapid development of the sales network. Initially we supplied Warsaw tool and metal stores. Just after few months we started looking for business partners in other cities of Poland. The years 1999/2000 were the beginning of cooperation. with large retail chains.
The company's first headquarters with logistics facilities was located on the Warsaw's Vis factory on Kasprzaka Street.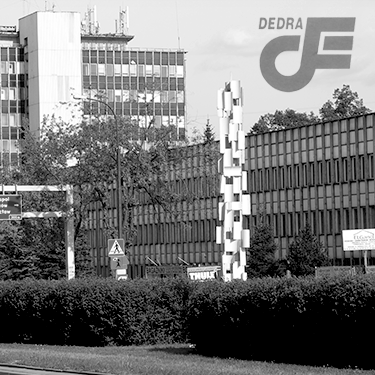 The expansion of the company, its personnel, product mix and inventory of goods required a continuous expansion of leased office and warehouse space. When it became insufficient in 2003 we moved the company to its current headquarters in Millenium Logistic Park in Pruszkow, at 3. Maja 8 Street. The year 2002/2003 marked another step in the development of our product range. At that time, we introduced a line of compressors and a wide range of tools pneumatic tools under the brand Pansam.
.
Since 2006, we have also been developing a group of welding products. Welding machines Dedra inverter welders produced with IGBT technology have become valued among users on the Polish market.
Caring about the high quality of the introduced products is also reflected in the established at that time slogan: Powerful Durable Reliable, which still characterizes the Dedra brand.
Dedra's commitment to high quality of introduced products is also reflected in the following slogan. Dedra brand.
In order to provide our customers with a high level of service and short delivery times in 2009 we implemented ERP class software supporting the management of within such areas as accounting - logistics - finance.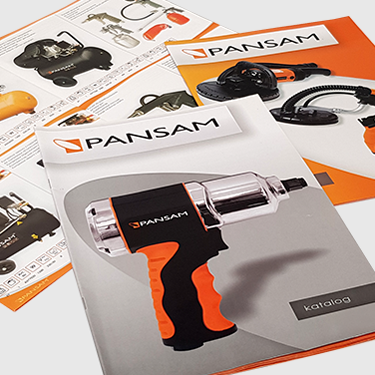 2011-2013
The company's third decade of operations has seen a very intensive development of the product offer.
. In 2013 to the portfolio we add the brand of Descon. This is heating equipment used in offices, industry, warehouses and workshops, air purifiers, fans.
This year has also seen strong growth for us sales network to European markets: Czech Republic, Slovakia and Lithuania.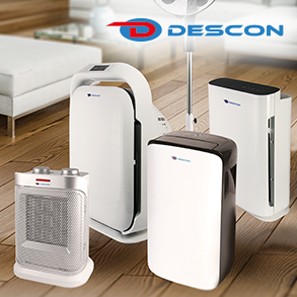 2014-2016
In 2016, we are launching on the Polish market network of stores . Dedra Partner.
. This is the next stage of our strategy of supporting points of sale traditional. It assumes comprehensive service in terms of availability, display of goods, service standards and selection of Dedra tools.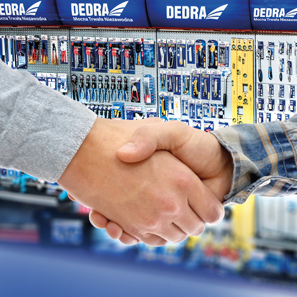 2017-2019
2017 marks the beginning of a very busy three years for us.
Each year a new brand of tools is added to our offer - 2017 Hillen&Mohr (socket wrenches, power tools, most products under this brand have a 25-year warranty), 2018 - SAS+ALL (rechargeable tools that work with the "One battery, many possibilities" system), 2019 - Dedra Garden (garden tools and equipment and irrigation accessories).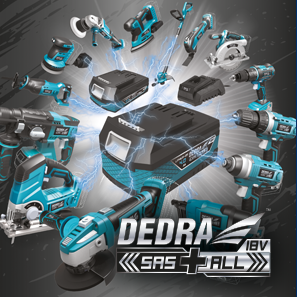 The years 2019 - 2022 brought a very different reality than during the company's first two decades of operation. Living in a state of pandemic despite soaring international transportation prices and rising raw material prices, brought a huge increase in demand in the construction market. This has allowed us to continuously develop young product groups such as SAS+ALL brand products (more than 100 battery products on offer), lasers, rangefinders and detectors, but also Dedra Garden.
Covid-19 has changed our focus a bit, we have launched an online store Narzedzia24/7.pl for individual customers. In 2021, we held the first online conference for our direct customers.
The dynamic growth of the assortment requires perfect logistics. Therefore, at the turn of 2019/2020, we acquired more space warehouses, where we used semi-automatic shuttle system which allowed us to maintain the highest standards of service and delivery to customers within 48 hours at most..
The year 2022 continues to see tremendous growth and many new products in our product range, including:
diesel soil auger
internal combustion scythe with four-stroke engine
internal combustion mower with double blade
450 Nm and 600 Nm cordless impact wrench
Cordless coffee maker and many others.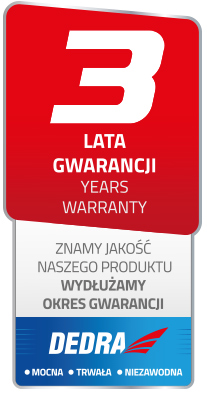 This year we also decided to extend the warranty period to three years for most of our products, among others, for SAS+ALL products, DEDRA brand power tools, welding machines, which previously had a two-year warranty.
When, on February 24, 2022, the world circulated the information about the entry of Russian troops into Ukraine it was not known what consequences for the economy would result from this armed aggression. Over the next few months everyone had to come to terms with with the many negative consequences of the war.
Dedra took an active part in helping not not only to the refugees arriving en masse, but also those who remained in Ukraine to fight for their freedom.